The politically charged trail against Ukraine's former Prime-minister has delivered a
guilty verdict.
Tymoshenko had been charged with misuse and abuse of public office whilst she was Prime-minister. The prosecution claiming that Tymoshenko had no authority to sign a contract with Russia for the supply of gas to Ukraine. They claim that as a result of the unfavourable contract Ukraine has lost over 200 million dollars.
This is in spite of the fact that the trial itself has caused untold damage to foreign relations and may even derail or delay implementation of negotiated trading agreements with Europe and Russia.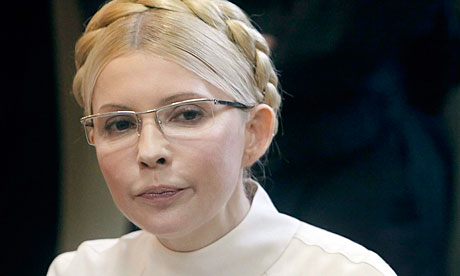 The charges brought against Tymoshenko are seen as an act of political persecution of members of the opposition. Tymoshenko has been imprisoned for the last two months and her ally Yuri Lutsenko has been detained since December 2010.
European
and
Western leaders
have all warned Ukraine of the consequences that would arise if Tymoshenko is found guilty and prevented from running in next years parliamentary elections. Yulia Tymoshenko has accused the courts of doing President Yanukovych's bidding in an effort to prevent the opposition from campaigning and winning the Parliamentary elections scheduled for October 2012. The international community has in a rare expression of unity all condemned Ukraine for its actions and the conduct of the trails against Tymoshenko and Lutsenko. Both had been denied freedom whilst their trails have been conducted.
The repercussion of the verdict that has been read out today will surly cost Ukraine much more then the 200 Million dollars that the authorities claim Tymoshenko lost. The claim itself is subjective as the deal that was agreed to between Ukraine and Russia was the only deal on the table. Russia had indicated that it was no longer going to subsidise Ukraine's gas consumption and that it expected Ukraine to pay market rates for its gas supply. The price paid for by Ukraine is still considerably less then the market value.
Time will tell how serious Europe and the west is and if they will in fact follow through with action and sanctions against Ukraine or if they will once again turn a blind eye to the misuse and abuse by Ukraine's Presidential office.
The stupidity of it all is that this action was unnecessary and lacking any merit. It has once again brought Ukraine and Viktor Yanukovych's presidency into disrepute making that much harder for him to negotiate international trade agreements. It also begs the question what will happen when and if Yanukovych loses office in 2015.
Noticeable in the administration of selective justice is the fact that former Ukrainian President Victor Yushchenko has escaped prosecution for his misuse and abuse of office when he was President. Many commentators are of the view that Yushchenko has been spared prosecution in return for the support he provided that saw Yanukovych win the presidency in 2010.